Legacy-Anwendungsmodernisierung – gibt es einen Königsweg?
Das Thema Legacy-Anwendungsmodernisierung ist in aller Munde. 90 Prozent der Mainframe-Anwendenden beschäftigen sich mit diesem Thema und versuchen sich aus der "Umklammerung" zu lösen. Was sind die Gründe dafür? Welche Lösungsansätze existieren am Markt? Wo stehen wir heute und was kann adesso transformer bei der Ablösung von Altsystemen liefern? Gibt es einen Königsweg für die Legacy-Anwendungsmodernisierung? Diesen Fragen gehe ich in meinem Blog-Beitrag nach.
---
Other current blog posts of the organization
adesso SE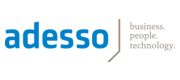 Erfolgreiches Geschäft entsteht durch innovative Ideen, zukunftsfähige Strategien und passgenaue IT-Lösungen, die Unternehmen optimal bei ihren individuellen Herausforderungen unterstützen. Immer sind dabei Menschen beteiligt, die den richtigen Mix aus Technologieexpertise und fundiertem Verständnis für das jeweilige Geschäft der Kunden mitbringen.
Mit einem Team von rund 5.300 Mitarbeiterinnen und Mitarbeitern arbeiten wir an 38 Standorten als einer der führenden IT-Dienstleister im deutschsprachigen Raum täglich daran, die Vorhaben unserer Kunden erfolgreich ans Ziel zu bringen.